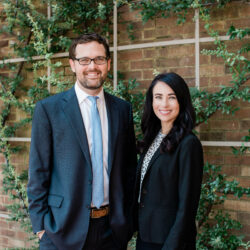 We identify and resolve problems. We lean into challenging issues and difficult choices. We lead.
We focus our approach to every case on thoughtful and intentional legal strategies with an emphasis on collaboration and partnership with our clients, effectively solving difficult legal issues while delivering first-class, professional representation.
Kevin Frye has been voted Oxford's Favorite Attorney for fourteen consecutive years, served in elected office as Supervisor of Lafayette County and was recognized as one of Mississippi's Top 50 Under 40. Brooke Reeves currently serves as representative of the 3rd Circuit Court District on the Board of Commissioners of the Mississippi Bar and as a member of the Committee on Women in the Profession – she previously served as President of the Lafayette County Bar Association.
If you are in need of representation, or timely strategic advice, please call our office or email us using our contact page.
Latest News
17
Jul
Kevin Frye volunteers with the SynGAP Research Fund (SRF) to support his son Nathan's rare disease journey, and was recently named Legal Director for the organization. SRF is a 501(c)(3) public charity incorporated in 2018...
28
Jul
Brooke Reeves has been elected to represent the 3rd Circuit Court District on the Board of Commissioners of The Mississippi Bar. Brooke was elected by peer attorneys within the 3rd District and will serve a...
Testimonials
Words cannot express how amazing Mr. Kevin Frye has been in representing our son in his legal issue. From the first phone call I made to him under distressing news of what dire situation my son was in, he took his time and responded with compassion on how he would proceed in representing him. Since that day until now, over a year later and with many smart and thoughtful strategies along the way, my son has a second chance after obtaining the outcome we had hoped for. Kevin and his...

Kevin came recommended by someone we trust and we were very happy with his representation in my son's legal matter. Kevin has good relationships in the City of Oxford and understands how to get things done. He offered great advice and handled everything very well. Brooke is a great asset to the practice and they are both very professional.

Mr. Frye was very professional, reviewed the case on several occasions before the court date and used the facts of our case to find me not guilty. There is no room for error when it comes to this lawyer he is water tight, subsequently always having a response to accusations from the prosecuting attorney. Mr. Frye also has good relations with Oxford PD and is comfortable and confident when he is representing you on trial.

I most strongly recommend Kevin Frye's legal services. He is very professional, knowledgeable, and quite honestly just darn good at what he does. My son was charged with DUI first offense. Kevin thoroughly reviewed all evidence and recommended the most favorable direction for his case. During the initial court appearance, Kevin recognized an opportunity that would benefit my son. He made an aggressive and impassioned argument to the judge which ultimately resulted in the dismissal of my son's charges. Kevin's keen instincts and assertiveness, coupled with his meticulous attention to...

Kevin has been a great lawyer. From the start he has been easy to talk to and very responsive to phone calls, emails etc. Mr. Frye was able to get my DUI non adjudicated and has been able to help me in the process. When I had trouble obtaining a new license from the DMV Kevin personally drove to the DMV to make sure I was issued my new license. I highly recommend Kevin Frye for any/all of your legal needs!

Kevin represented my daughter on two misdemeanor charges (minor in possession of alcohol and possession of a fake id.) and did a great job. The charges were dismissed and ultimately expunged. He kept us informed every step of the way and resolved the matter favorably and in a timely manner. I would not hesitate recommend him to anyone seeking similar services in Lafayette County, Mississippi.

Kevin did a fantastic job in representing me and my professional interest. Despite tedious claims by opposing counsel Kevin won on every attempt they tried. Opposing counsel attempted every trick possible, and Kevin anticipated and prevailed with each motion filed. Kevin is very well connected to the North MS legal community which gives him a valuable navigation skill with your case. Would definitely recommend Kevin Frye for most any legal assignment in the North MS area.

Kevin was my defense in a felony suit. He is professional, accessible, and flexible in his collection of payment. He returns phone calls promptly and informed me of all my options before proceeding in each step of the suit. Thanks to his efforts, I was able to avoid trial and the charges have been dropped.

After Being arrested for DUI I did not know what to do. After consulting with many lawyers in the Oxford area I talked to Kevin and instantly knew that he was the lawyer for me. He was easy to get in touch with and always responded promptly to my questions and concerns. I walked out of court with all charges being dropped and also had a clean arrest record within 2 weeks. I could not have asked for better results.

Kevin was an awesome attorney the whole time my case was active. He kept me informed everytime something was brought up to his attention and was always on call when I needed him or had any questions. He helped me in so many ways the few years I was his client. He worked hard to get the best plea for me when I was clearly guilty. Very understanding and treated his clients the way they should be. I would recommend him to anyone that needed help.

I was charged with a DUI under certain circumstances that myself and Mr. Frye felt were not appropriate for the crime I was being charged of committing. After a short conversation and review of reports I decided to lawyer up for good. I was given the option for reasonable paying methods that allowed me to stay within a monthly budget and to be able to defend my case. He stayed in contact and kept me updated on the progress of my case. Mr. Frye and I had another meeting before...

After my husband's DUI, we hired Kevin Frye because of the positive reviews online. After working with him for over a month, we realized what an awesome lawyer he was. Kevin was very thorough and persistent in court, which ultimately led to the dismissal of the DUI charge. If it weren't for him, our life would be upside down right now, but it's not. My husband was able to keep his license and his job. We are very thankful for the work that Kevin Frye did for us and would...

Kevin is a consummate professional who receives the greatest possible review that I can offer, and I strongly urge anyone who is in need of legal help to consider him first. A few months back I was taken in from one of Oxford's many checkpoints. I called a few lawyers first thing Monday morning and it was clear after talking to Kevin he was the one to go with. We met shortly thereafter, and he quickly alleviated my fears, convincing me my case was a cut and dry to be...

Kevin is a very knowledgeable, diligent, and thorough attorney. He works tirelessly to ensure complete preparedness for every case he receives. I've personally witnessed him go out of his way to help his clients. Kevin was able to get my DUI completely dismissed and expunged from my record. He is very affordable, and worth every penny. If there is a way to defend a charge, Kevin Frye will find and relentlessly attack that option. I highly recommend Kevin Frye to anyone in need of legal representation.

Kevin is one of the only lawyers I have met who will meet with you on a personal level and offer his own wisdom to aid you in your struggle. He worked with me on several issues that I truly did not deserve help with from anyone. Even though I messed up multiple times he was there to offer his professional advice as well as give me the guidance I needed to make it through the toil and trouble I bestowed on myself.

Mr. Frye is extremely knowledgeable in the practice of criminal/DUI defense. He was always willing and able to explain every step of the judicial process in a concise, easily understandable manner. From the beginning Mr. Frye worked hard to hold the law accountable and represent me to the fullest. Charge: DUI 1st. Court Ruling: Dismissed.

Kevin did a fantastic job working with me in this situation. Ultimately, my case was dismissed. I couldn't be more satisfied with the representation Kevin provided. I would give my strongest recommendation, without any reservation.